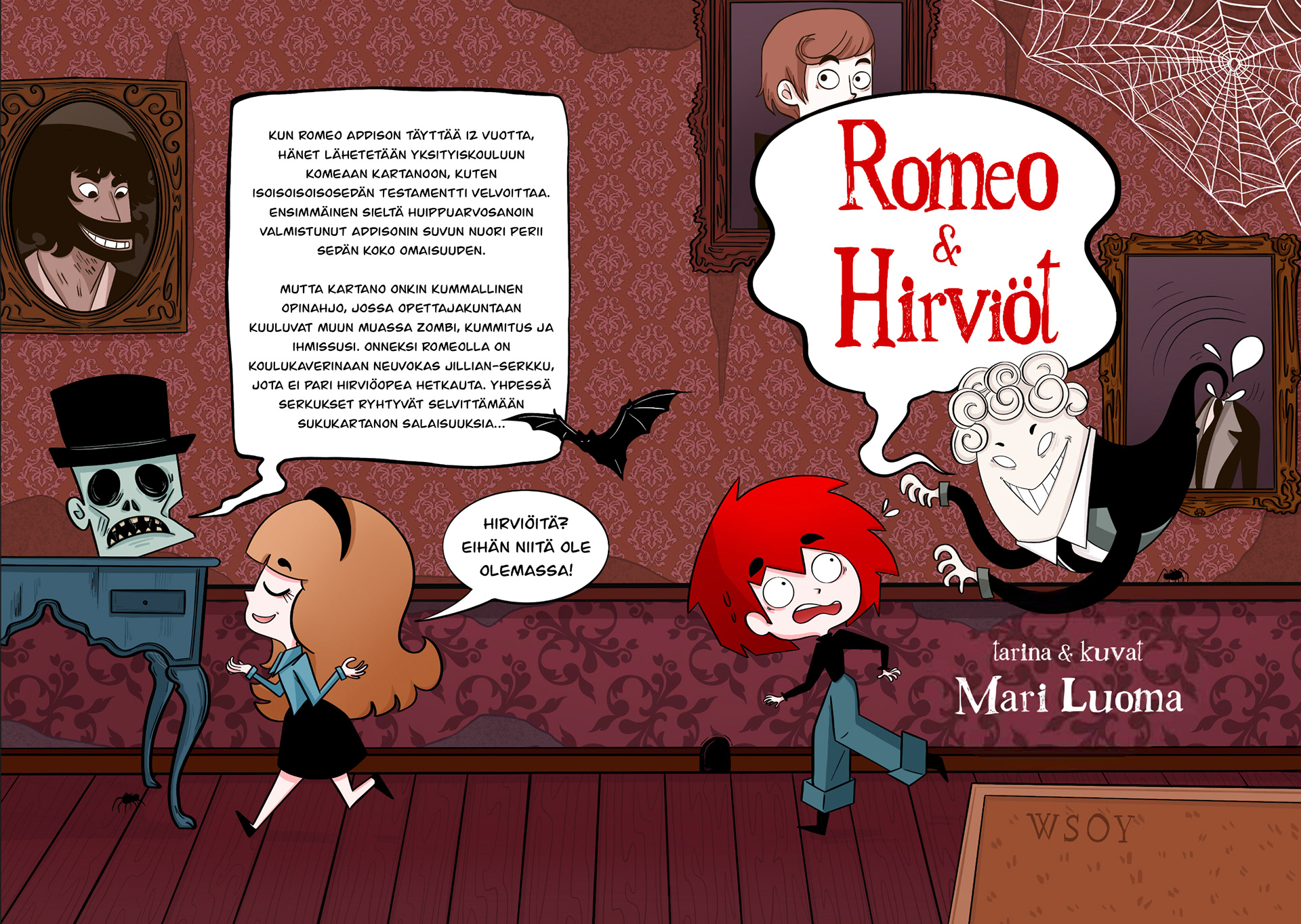 Romeo & Hirviöt (Romeo & Monsters) is my first published comic and the first book where I was not only the illustrator but also the author as well. It's a story of a 12 year old boy Romeo who finds out that all of his private school teachers are bloodthirsty monsters. The monsters find the boy fascinating, as his presence is increasing their powers and no one knows why, not even Romeo himself. Romeo's cousin and classmate Jillian is investigating the mysteries of their family, but she doesn't believe in monsters. This mix is creating spooky humour suitable for everyone from 9 years and older. It is currently published in Finland in Finnish by WSOY. 
Although the comic book saw the light of day in September 2021, its' process goes years back. The very first idea for Romeo & Hirviöt came to me already almost 15 years ago as a teenager when I was thinking of a parody of these popular "vampire/werewolf teenage romance" books. I created this boy who had absolutely nothing interesting going on with him but for whatever reason, all the supernatural beings found him attractive. And I would call this guy Romeo, named after Shakespeare's tragic, romantic hero. From there, the idea developed in my head for years. Characters, their ages and purposes changed quite a bit but the name Romeo and his red hair from the original design remained. From a teenage monster romance parody, the comic started to develop into a humorous children's story. 
I "seriously" played with the story's concept in university during my bachelor studies, when I tried to create a short interactive story of Romeo as a part of my course work. The project was never finished, but almost all of the characters got their designs then and the story developed a bit further. It was during my last year of studies, as an exchange student in England, when Romeo was for the first time turned into a comic as my final project. I was on a tight schedule and produced a simply drawn 24 page comic in about two weeks. The good feedback encouraged me to offer the comic to be published in Finland later. With the publisher, I kept developing the story and the art style of the comic and eventually got funding from WSOY Literary Foundation.
As I said at first, Romeo & Hirviöt is my first comic album and won't be the last. I look forward to continuing to work with comics a lot more in the future, both with these characters as well as with some new titles to come. 
Pages and panels from the book.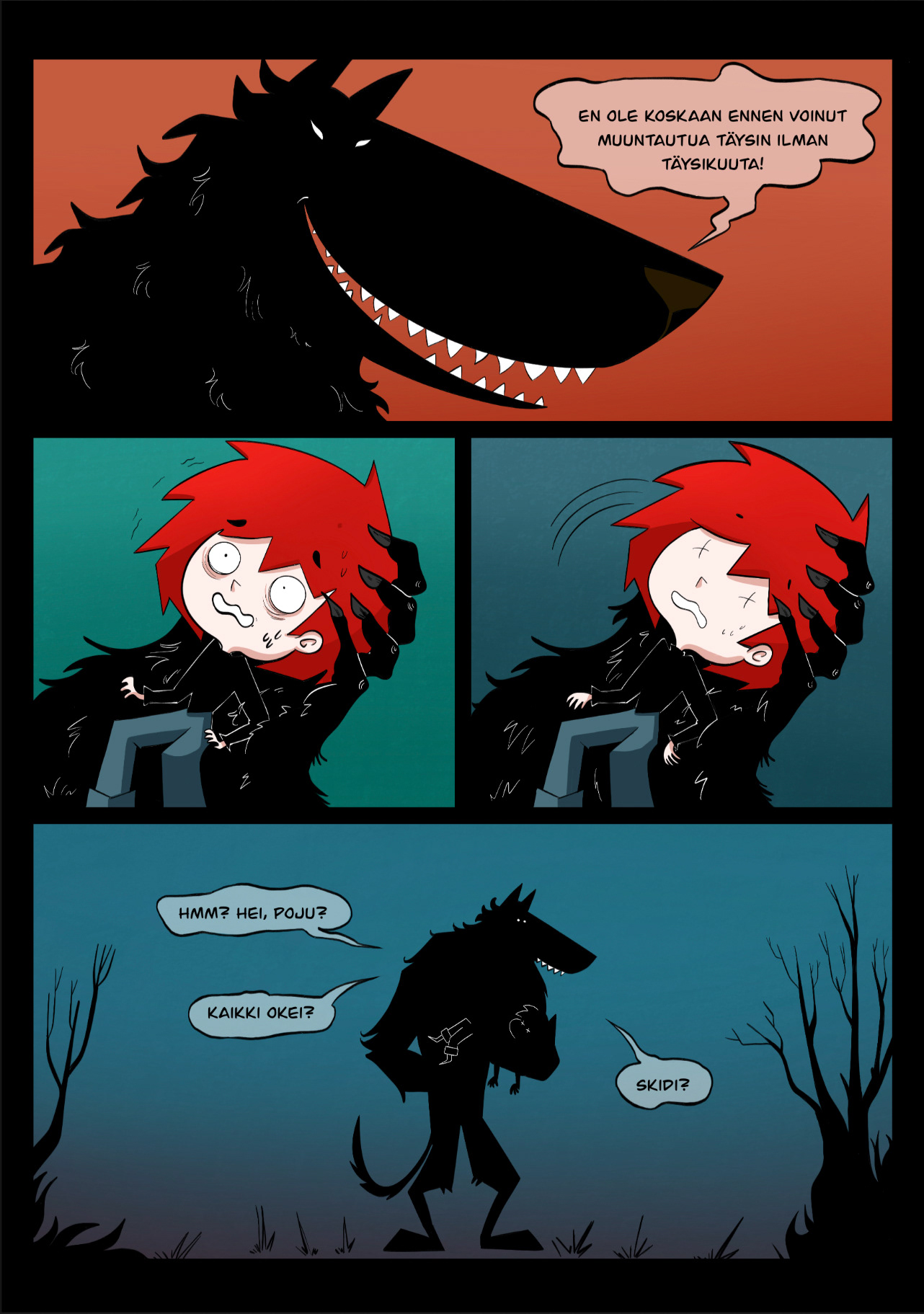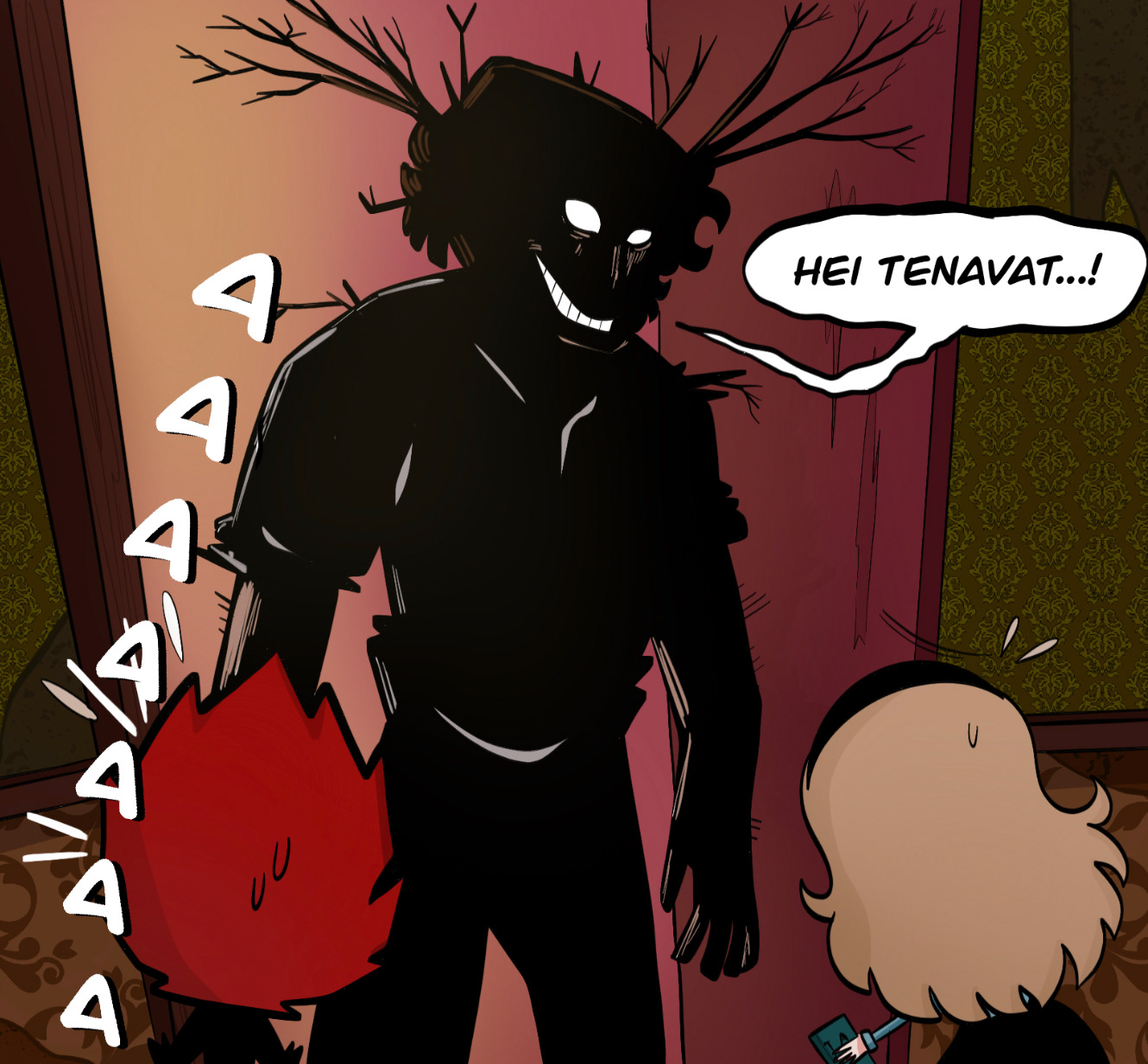 Sketches, progress illustrations and a couple of pages from the very first comic version.